I am a writer of historical fantasy fiction and the author of Enoch's Device, a fast-paced medieval adventure steeped in history, mythology, and mysteries from a dark and magical past.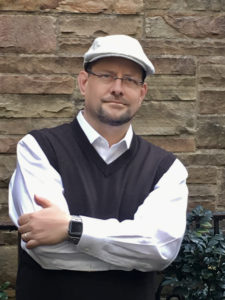 Since the day I learned of Robin Hood and a king named Arthur who pulled a sword from a stone, I've been fascinated with medieval tales. About the same time, I discovered hobbits and experienced the awe of a rebel blockade runner being chased by a Star Destroyer, and from that point on a love of fantasy and adventure became ingrained in my DNA.
When I'm not concocting diabolical plots or writing medieval battle scenes, I'm training to become a Chopped Champion on Food Network or helping clients in my law practice of more than twenty years. I'm also a husband, a father, and a herder of two mischievous rescue dogs who lack names as cool as Ghost or Grey Wind. But I'd take them beyond the Wall in a heartbeat.
I'm always working on my next story, even if I never know how it ends until I get there. After all, that's the fun of it.